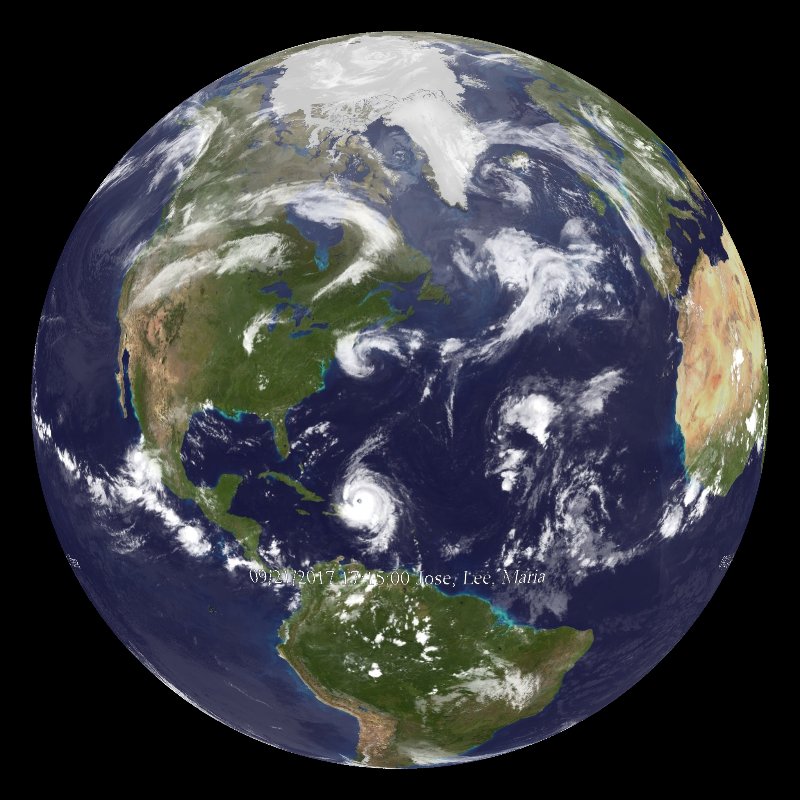 Description
After a long lull in major hurricanes striking the U.S. (2005 - 2017), the 2017 season was an extremely destructive season, featuring 17 named storms in just the Atlantic Ocean, tying it with 1936 as the fifth-most active season since records began in 1851. All ten of the Atlantic hurricanes occurred in a row, the greatest number of consecutive hurricanes in the satellite era. In addition, it is by far the costliest season on record, with a preliminary total of over $368.66 billion (USD) in damages, which is more than double the cost of 2005's total, and nearly all of which was due to three of the season's major hurricanes — Harvey, Irma, and Maria. All three occurred within one month in August - September, sending disaster aide efforts reeling and calling on volunteers for help.
This dataset names both atlantic and pacific hurricanes in 2017 in the labels of the dataset. The record-breaking hurricanes in 2017 included Harvey, Irma, Maria, and Ophelia. Hurricane Harvey, was an extremely destructive Atlantic hurricane which became the first major hurricane to make landfall in the U.S. since Wilma in 2005. In a four-day period, many areas of eastern Texas received over 40 inches of rain as the system meandered along the gulf coast causing catastrophic flooding. With a record of 51.88 inches, Harvey is the wettest tropical hurricane on record in the contiguous U.S. The resulting floods inundated hundreds of thousands of homes, displaced more than 30,000 people, and prompted more than 17,000 rescues.
Hurricane Irma , the strongest tropical storm ever observed in terms of wind speed with 36 hours of sustained category 5 185 mph winds, struck the Florida Keys and Florida's Gulf Coast in early September. The storm right behind it, Hurricane Maria, was the most intense tropical cyclone to strike the U.S. territories in recorded history. Maria caused so much damage in Puerto Rico, many Puerto Ricans were still without power months later.
Hurricane Ophelia became the easternmost category 3 storm in recorded history and dissipated into an extra-tropical cyclone that wreaked windy havoc on Ireland and Great Britain.
Notable Features
2017 was the most costly hurricane season on record and tied for fifth as the most active season since records began in 1851.
Hurricane Harvey set a record for wettest tropical hurricane in the contiguous U.S. by depositing 51.88 inches near Houston, TX.
Hurricane Irma had the highest sustained winds of 185 mph for the longest period of time 37 hours of any hurricane on record and caused a lot of damage in the Caribbean and Florida Keys.
Hurricane Maria was the most intense cyclone to strike the U.S. territories in recorded history and caused catastrophic damage in Puerto Rico.
Hurricane Ophelia was the strongest easternmost storm in recorded history and it's extra-tropical cyclone caused very high winds in Ireland and Great Britain.
Related Datasets