Hurricane Harvey: Clouds with Precipitation - 2017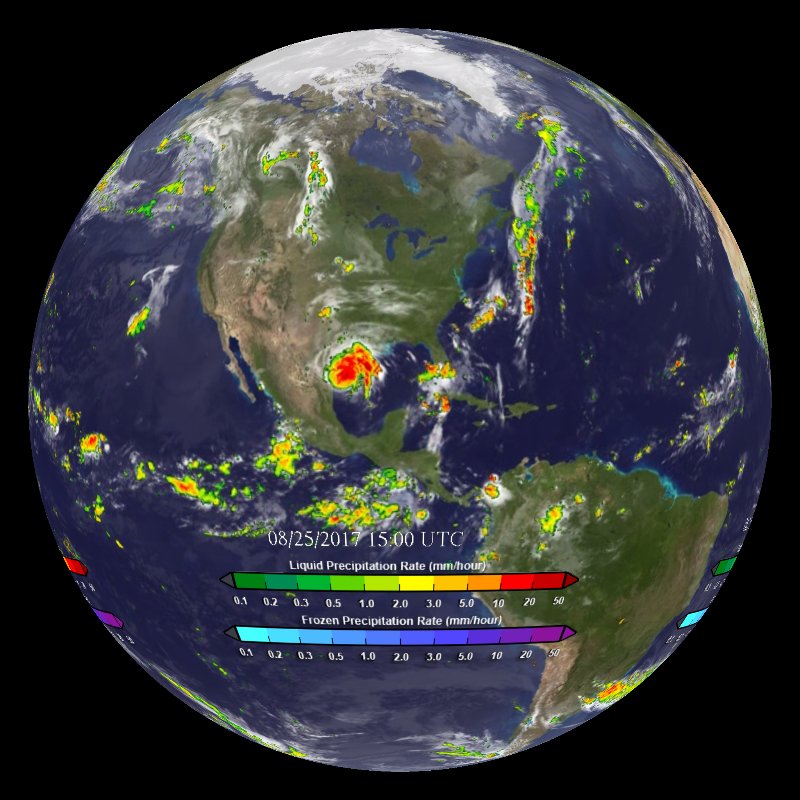 Description
Hurricane Harvey was an extremely destructive Atlantic hurricane which became the first major hurricane to make landfall in the U.S. since Wilma in 2005. In a four-day period, many areas of eastern Texas received over 40 inches of rain as the system meandered along the gulf coast causing catastrophic flooding. With a record of 51.88 inches, Harvey is the wettest tropical hurricane on record in the contiguous U.S. The resulting floods inundated hundreds of thousands of homes, displaces more than 30,000 people, and prompted more than 17,000 rescues.
The eighth named storm and third hurricane in a very prolific hurricane season, Harvey developed from a tropical wave to the east of the Lesser Antilles, reaching tropical storm status on the 17th of August and intensified to a category 4 hurricane by August 26th when it made landfall near Rockport, Texas. Afterwards, although the storm weakened, rapidly, Harvey stalled near the coastline of the state, dropping torrential and unprecedented amounts of rainfall over the Lone Star state. The third and final landfall of the storm came in Louisiana on August 29th before it drifted inland and dissipated.
Harvey caused at least 83 confirmed deaths. Preliminary estimates for economic losses are between 70 and 200 billion dollars.
Notable Features
Harvey was designated a tropical storm on August 17th, 2017 and made landfall in Rockport, Texas on August 26th as a category 4 hurricane, the first major hurricane to hit the U.S. since Wilma in 2005.
Harvey captured a record for the wettest tropical hurricane in the contiguous U.S. dropping over 51 inches of rain in south-eastern Texas.
Harvey could very well also be the most expensive hurricane in U.S. history, with estimates of damage topping 200 billion dollars.
Related Datasets