SOS Explorer® 1.4.1 Release Notes
In SOSx 1.4.1 we are integrating a feature that will auto-upgrade your SOSx version automatically upon start-up if you are out of date. This way you will never have to manually upgrade or miss out on new data (that requires a new version) again! We have also included some really fun new animal migration datasets including a humpback whale, a loggerhead sea turtle and a great white shark!
Please read the upgrade instructions.
May 2018.
Software auto-update upon load
Audio capabilities in tour place marks
Nested 360 bubbles in tours
Time-matching support for movie-based datasets
Large scale models of animals as part of migration datasets
Population widget to count people in the population dataset
Numerous bug fixes
Zooming window "explorer" on the Mandlebrot Fractal dataset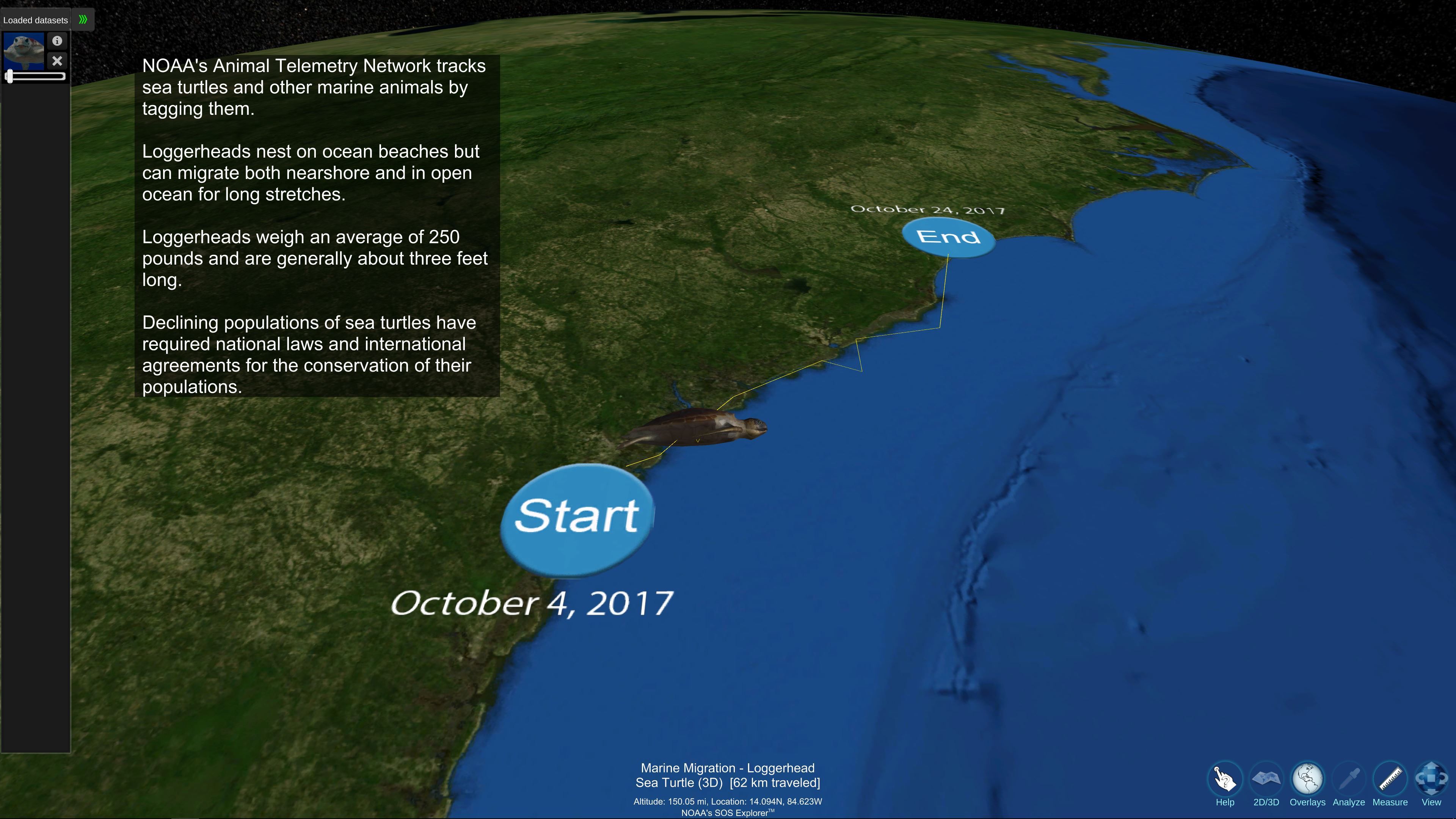 Download the upgrade instructions as a PDF.
These instructions assume you have previously installed SOSx-setup.exe on the same computer and already registered the software and that you do not yet have SOSx 1.4.1 — the auto-updating release.
If you have not already done so download the SOSx-upgrade.exe. If it doesn't automatically pop up (this behavior depends on configuration settings of your computer), open your file browser and look for the file named SOSx-upgrade.exe. Double-click the SOSx-upgrade.exe file to launch the installation.
On Windows 10 systems, you might get a popup stating Windows protected your PC. Clicking More info will show you that Windows prevented the SOSx upgrade executable you double-clicked from running and list the publisher as "unknown". After clicking More info, a Run anyway button should appear at the bottom of the dialog. Click Run anyway.
Don't worry if Windows does not display this dialog, just continue with the instructions.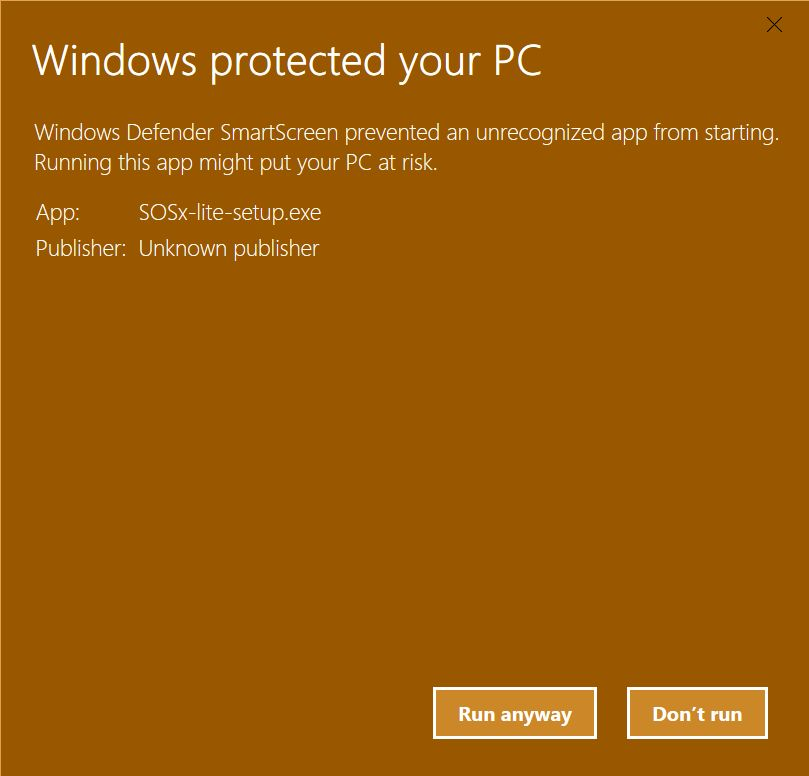 A license agreement will pop up. Read through and click I accept the agreement and then press Next.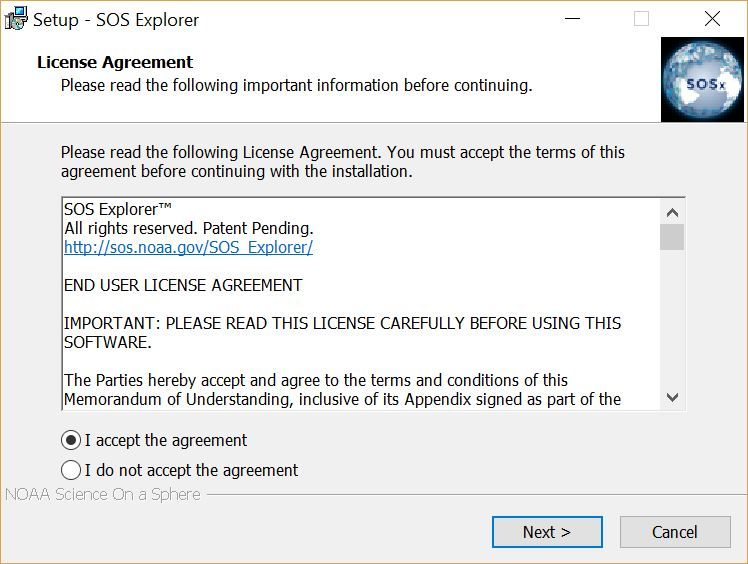 Then you will be asked to select the location you installed the datasets. Typically, this is located at C:\local-datasets or D:\local-datasets and then press Next.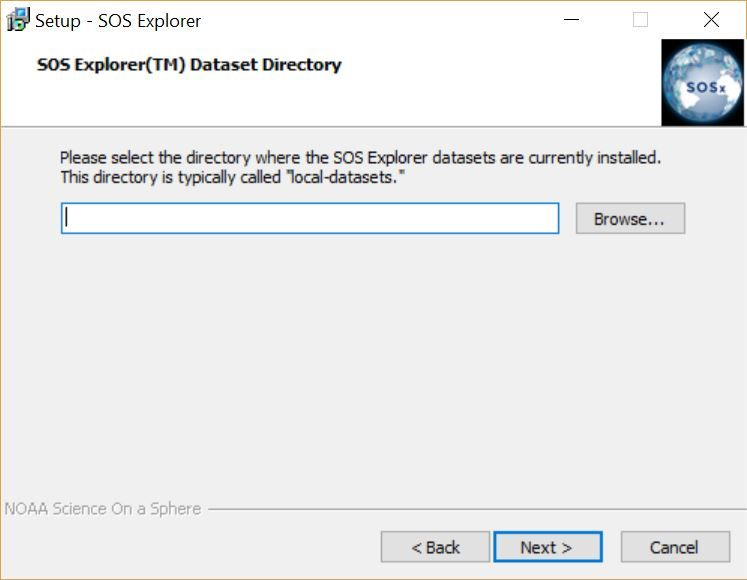 Press Next to continue with the installation. This will begin the process of upgrading SOS Explorer®.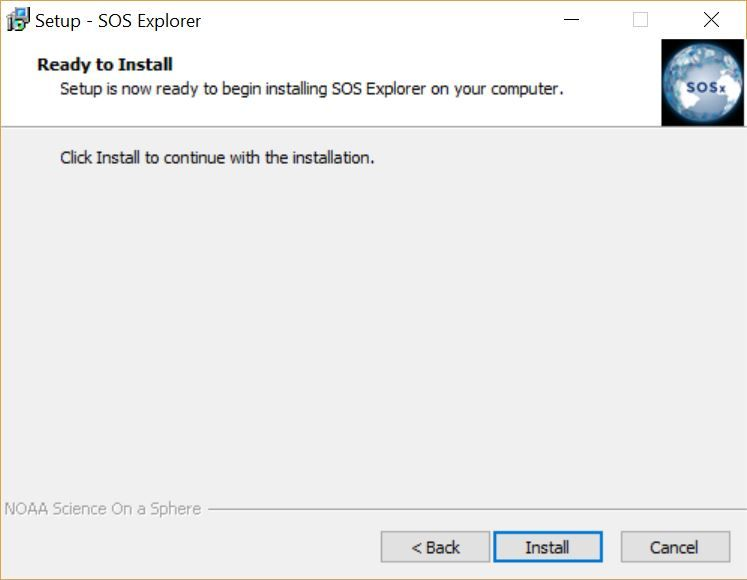 LAV Filters has its own setup program and will install next. Just continue accepting the default answers until the setup finishes.
Next you'll see a prompt about completing the setup. You are given the options to view this instruction manual or check for new data. Once you have selected what you want, click Finish.
If you selected to view the documentation or check for new data, you will see windows for those pop up
If you selected modify or review configuration the SOSx Configurator will appear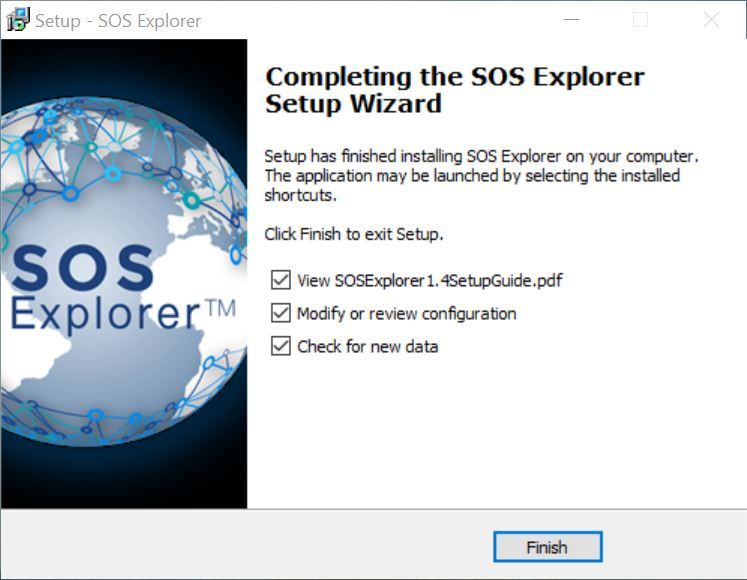 Double click on the SOS Explorer® icon to run the upgraded application.
Once you have acquired SOS Explorer®, the SOSx team will ship you a hard disk loaded with the software and content along with set up directions. You can also find the set-up guide online. Then, we will walk you through the features and different site configurations on video teleconference that we'll schedule together with as many people as you would like to train. Other helpful guides and video tutorials are available as well.