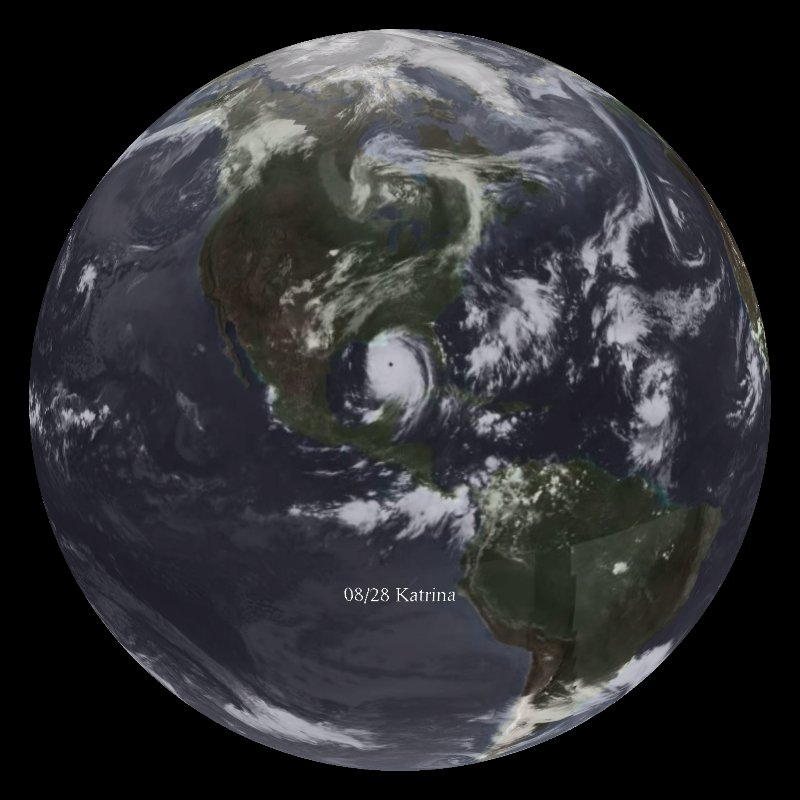 Description
"This hurricane season shattered records that have stood for decades - most named storms, most hurricanes and most category five storms. Arguably, it was the most devastating hurricane season the country has experienced in modern times," said retired Navy Vice Adm. Conrad C. Lautenbacher, Jr., Ph.D., undersecretary of commerce for oceans and atmosphere and NOAA administrator.
With 28 named storms, 15 hurricanes, seven major hurricanes, and four category 5 hurricanes, the 2005 hurricane season certainly blew the records away. It was also the first season in which four major hurricanes hit the U.S.. The season started early and ended late with two tropical storms in June (which hadn't happened since 1986) and three tropical storms in November with one that formed in December and dissipated in January. The season also included the most rapid intensification of a hurricane in 24 hours in the Atlantic Ocean, a record held by Wilma. The third and fourth most intense hurricanes ever recorded in the Atlantic basin were Rita and Wilma.
Even with all these records, the 2005 hurricane season will arguably be most remembered for Hurricane Katrina, which devastated parts of Mississippi, Louisiana and in particular, New Orleans. Over 1600 people died during the storm and an estimated cost for all the damage, $75 billion, makes Katrina the costliest hurricane ever.
This dataset is a gray-scale infrared satellite image available from June 1, 2005 through January 3, 2006. IR satellites measure emitted heated. Where there are clouds, the satellites measure the heat emitted by the clouds rather than the ground below it. Because clouds are so much colder than the ground, they are easy to detect on IR satellite images. The brightest white clouds are the highest ones, indicating that they have powerful storms below.
Name
Date
Peak Strength
Landfall Location
Damage Cost
Arlene
June 8-13
Trop. Storm
Cuba
Pensacola, FL
$ 11.8 mil
Bret
June 28-29
Trop. Storm
Mexico
$ 9 mil
Cindy
July 3-7
Cat. 1
Yucatan Peninsula
Grand Isle, LA
$ 320 mil
Dennis
July 4-13
Cat. 4
Cuba
Pensacola, FL
$ 4 bil
Emily
July 10-21
Cat. 5
Yucatan Peninsula
Mexico
$ 550 mil
Franklin
July 21-29
Trop. Storm
No Landfall
N/A
Gert
July 23-25
Trop. Storm
Mexico
$ 5 mil
Harvey
Aug. 2-8
Trop. Storm
No Landfall
N/A
Irene
Aug. 4-18
Cat. 2
No Landfall
N/A
Jose
Aug. 22-23
Trop. Storm
Mexico
$ 45 mil
Katrina
Aug. 23-31
Cat. 5
South Florida
Louisiana Coast
Pearlington, MS
$ 75 bil
Lee
Aug. 28-Sept. 2
Trop. Storm
No Landfall
N/A
Maria
Sept. 1-14
Cat. 3
No Landfall
N/A
Nate
Sept. 5-10
Cat. 1
No Landfall
N/A
Ophelia
Sept. 6-23
Cat. 1
Brushed Outer Banks, NC
$ 70 mil
Phillippe
Sept. 17-24
Cat. 1
No Landfall
N/A
Rita
Sept. 17-26
Cat. 5
Cameron Parish, LA
$ 10 bil
Stan
Oct. 1-5
Cat. 1
Yucatan Peninsula
Mexico
$ 1-2 bil
Tammy
Oct. 5-6
Trop. Storm
Jacksonville, FL
$ 30 mil
Vince
Oct. 8-11
Cat. 1
Huelva, Spain
N/A
Wilma
Oct. 15-25
Cat. 5
Yucatan Peninsula
South Florida
$ 16-20 bil
Alpha
Oct. 22-24
Trop. Storm
Dominican Republic
N/A
Beta
Oct. 26-31
Cat. 3
Columbia
N/A
Gamma
Nov. 14-21
Trop. Storm
Honduras
N/A
Delta
Nov. 23-28
Trop. Storm
N/A
N/A
Epsilon
Nov. 29-Dec. 8
Cat. 1
N/A
N/A
Zeta
Dec. 30-Jan. 6
Trop. Storm
N/A
N/A
Notable Features
Animation
Hurricane tracks from January 1, 2000 through October 3, 2006
Hurricane tracks represented by red dots
Spacing of dots proportional to distance traveled in one day
Cumulative Map
All recorded hurricanes worldwide from 1950 - 2005 are included
The dots show the locations of the hurricanes at six hour intervals
No hurricanes cross the equator

Related Datasets