Agriculture: Food vs. Feed
Available for

SOS
Explorer

Categories

Land: Human Impact, Land Cover, Agriculture

Keywords

Agriculture
Cropland
Farming
Food
Land
Land Use
Meat
Pastureland
Not all cropland is used for producing food directly for people. A lot of the food crops grown are actually used as feed for animals. This map shows which regions produce crops that are mostly consumed directly by humans (in green), which regions produce about the same amount of human food and animal feed (in orange), and where most of the crops are used as animal feed (in red).
As discussed in 2 Billion More Coming to Dinner , the conversion of crops to meat is not particularly efficient (in the case of cattle, for example, about 30 pounds of feed are needed to grow a single pound of beef), so as global demand for meat rises, cropland devoted to growing animal feed will have to increase proportionately. What effect will this have on the cost of meat, crops, and our diets?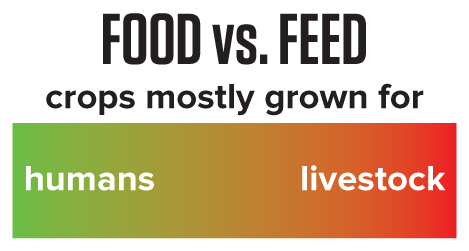 Grades 3–5

C7 Stability and Change. Students measure change in terms of differences over time, and observe that change may occur at different rates. Students learn some systems appear stable, but over long periods of time they will eventually change.
Grades 6–8

C2 Cause and Effect. Students classify relationships as causal or correlational, and recognize that correlation does not necessarily imply causation. They use cause and effect relationships to predict phenomena in natural or designed systems. They also understand that phenomena may have more than one cause, and some cause and effect relationships in systems can only be described using probability.

C7 Stability and Change. Students explain stability and change in natural or designed systems by examining changes over time, and considering forces at different scales, including the atomic scale. Students learn changes in one part of a system might cause large changes in another part, systems in dynamic equilibrium are stable due to a balance of feedback mechanisms, and stability might be disturbed by either sudden events or gradual changes that accumulate over time
Grades 9–12

C2 Cause and Effect. Students understand that empirical evidence is required to differentiate between cause and correlation and to make claims about specific causes and effects. They suggest cause and effect relationships to explain and predict behaviors in complex natural and designed systems. They also propose causal relationships by examining what is known about smaller scale mechanisms within the system. They recognize changes in systems may have various causes that may not have equal effects.

C7 Stability and Change. Students understand much of science deals with constructing explanations of how things change and how they remain stable. They quantify and model changes in systems over very short or very long periods of time. They see some changes are irreversible, and negative feedback can stabilize a system, while positive feedback can destabilize it. They recognize systems can be designed for greater or lesser stability
Grades 3–5

ESS3.A Natural Resources. Energy and fuels humans use are derived from natural sources and their use affects the environment. Some resources are renewable over time, others are not.

ESS3.C Human Impact on Earth systems. Societal activities have had major effects on the land, ocean, atmosphere, and even outer space. Societal activities can also help protect Earth's resources and environments.

LS2.A Interdependent Relationships in Ecosystems. The food of almost any animal can be traced back to plants. Organisms are related in food webs in which some animals eat plants for food and other animals eat the animals that eat plants, while decomposers restore some materials back to the soil.
Grades 6–8

ESS2.E Biogeology. Evolution is shaped by Earth's varying geological conditions. Sudden changes in conditions (e.g., meteor impacts, major volcanic eruptions) have caused mass extinctions, but these changes, as well as more gradual ones, have ultimately allowed other life forms to flourish, which have in turn changed the rates of weathering and erosion of land surfaces, altered the composition of Earth's soils and atmosphere, and affected the distribution of water in the hydrosphere.

ESS3.A Natural Resources. Humans depend on Earth's land, ocean, atmosphere, and biosphere for different resources, many of which are limited or not renewable. Resources are distributed unevenly around the planet as a result of past geologic processes

ESS3.C Human Impact on Earth systems. Human activities have altered the biosphere, sometimes damaging it, although changes to environments can have different impacts for different living things. Activities and technologies can be engineered to reduce people's impacts on Earth.

ESS3.D Global Climate Change. Human activities affect global warming. Decisions to reduce the impact of global warming depend on understanding climate science, engineering capabilities, and social dynamics.

LS2.A Interdependent Relationships in Ecosystems. Organisms and populations are dependent on their environmental interactions both with other living things and with nonliving factors, any of which can limit their growth. Competitive, predatory, and mutually beneficial interactions vary across ecosystems but the patterns are shared.

LS4.D Biodiversity & Humans. Changes in biodiversity can influence humans' resources and ecosystem services they rely on.
Grades 9–12

ESS2.E Biogeology. The biosphere and Earth's other systems have many interconnections that cause a continual co-evolution of Earth's surface and life on it

ESS3.A Natural Resources. Resource availability has guided the development of human society and use of natural resources has associated costs, risks, and benefits.

ESS3.C Human Impact on Earth systems. Sustainability of human societies and the biodiversity that supports them requires responsible management of natural resources, including the development of technologies that produce less pollution and waste and that preclude ecosystem degradation.

ESS3.D Global Climate Change. Global climate models used to predict changes continue to be improved, although discoveries about the global climate system are ongoing and continually needed.

LS2.A Interdependent Relationships in Ecosystems. Ecosystems have carrying capacities resulting from biotic and abiotic factors. The fundamental tension between resource availability and organism populations affects the abundance of species in any given ecosystem.

LS2.C Ecosystem Dynamics, Functioning and Resilience. If a biological or physical disturbance to an ecosystem occurs, including one induced by human activity, the ecosystem may return to its more or less original state or become a very different ecosystem, depending on the complex set of interactions within the ecosystem

LS4.D Biodiversity & Humans. Biodiversity is increased by formation of new species and reduced by extinction. Humans depend on biodiversity but also have adverse impacts on it. Sustaining biodiversity is essential to supporting life on Earth
Green - crops consumed mostly by humans
Orange - crops consumed equally by humans and animals
Red - crops consumed mostly by animals