Using Tour Builder to Add New Datasets
Video tutorials are also available in the Video Tutorials.
Open Tour Builder
Select MenuToolsDataset Editor
Select a directory for your new dataset (it needs to exist in local-datasets to show up in SOSx)
Enter all of the information "required" in the window shown below
North/South/East/West can be used as a bounding box for an image that is not global
Data Link points to a file (image or video) or a directory of images
Browsing dropdown in the Search Window display categories. Your system comes with Air, Experiences, Extras, Land, Movies, People, Snow and Ice, Space, Tours, Water. Add new categories as desired. Add as many categories as is appropriate for your dataset.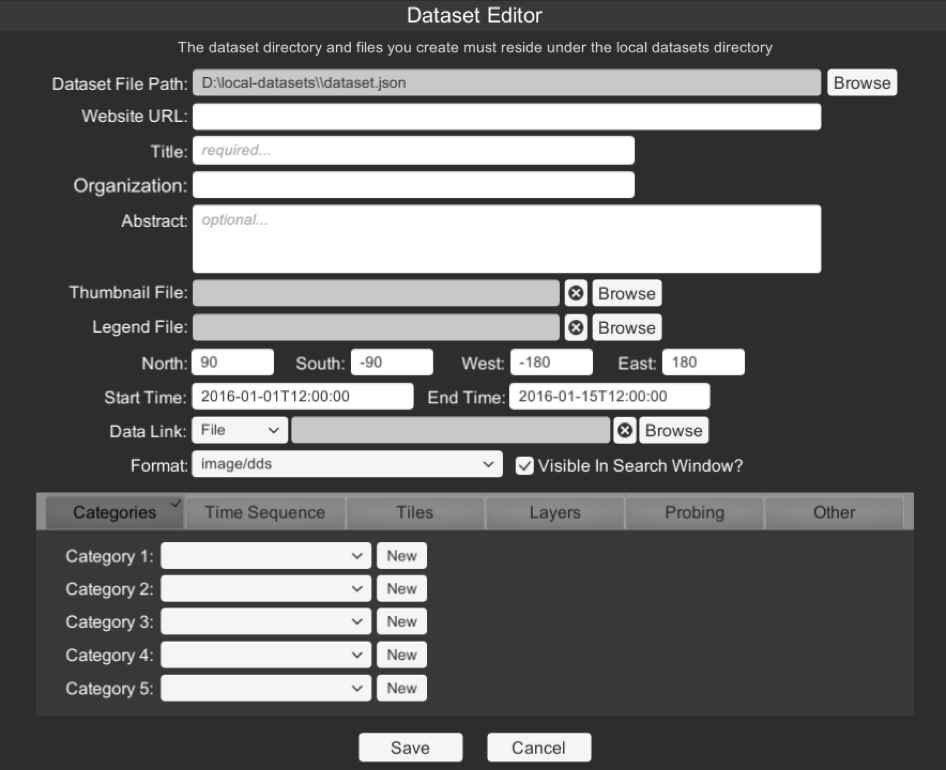 For an image sequence (directory of images), you must enter the Period, Filename Mask and for frame counts, also add File Seq Start (file sequence start) and File Seq Increment (file sequence end). See [Establishing Time Sequences for Images][establishing-time] for more information.

Give the layer a Title. DataLink is the name of the file, i.e. map.jpg. Choose Format. Save. You may add many layers.

If your colorbar.png is a linear, continuous gradient and your data is full color than you may want to consider filling out the probing table.

If your dataset is not Earth and is a "celestial body" then checking this box disables geographic overlays specific to Earth. KML Icon Scale Factor scales the size of icons. KML Override Icon allows you to browse to a .png file that will be used for your KML placemarks.

Because SOSx uses basic image formats like JPEG, and PNG as its main input format, there are many tools available for creating datasets. Common examples are Photoshop®, ImageMagick®, GIMP, GIS, etc.
For creating MPEG4 files with transitions, special effects and narration, programs such as FinalCut Pro® and Adobe After Effects® are useful.
Tools like IDL, AWIPS, McIDAS, and other image analysis applications are typically used to create imagery from scientific data sets. GIS programs such as ArcGIS or Quantum GIS can be used to create map images.
Graphics designers can use a 3D modeling applications, like 3D Studio®, to create advanced visualizations.
GIS programs such as ArcGIS or Quantum GIS can be used to create map images. A tutorial for creating SOSx datasets with Quantum GIS is available here: QGIS Tutorial.
The following article, researching the public understanding of science content, was written by SOS Users Collaborative Network members: Phipps, M. and Rowe, S. (2010) Seeing satellite data Public Understanding of Science. doi:10.1177/0963662508098684.