Olympics: Summer Medal Winners - 1896 - 2012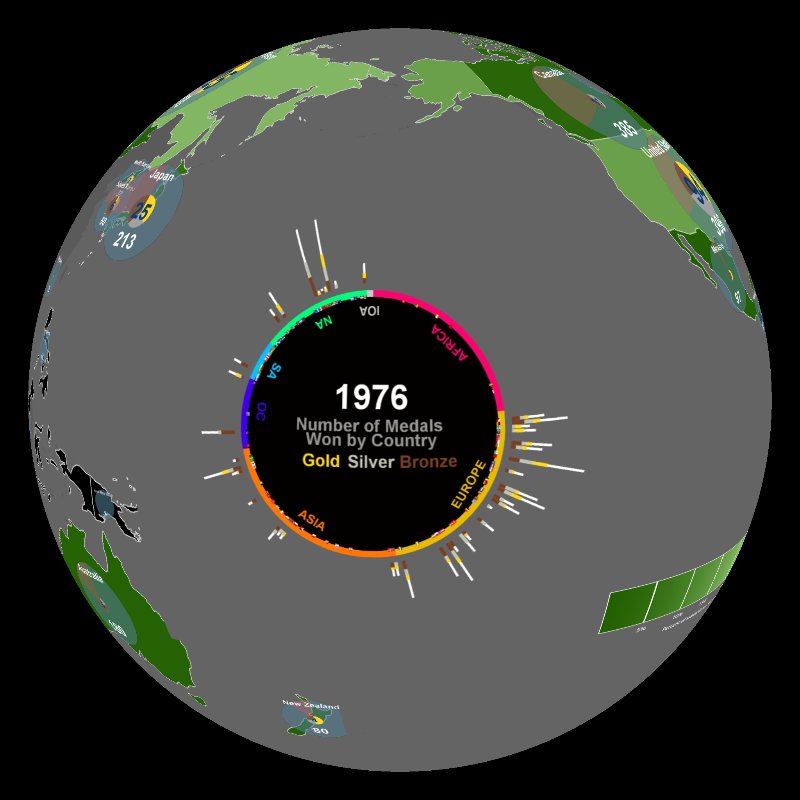 Description
This dataset visualizes the history of the Summer Olympic Games. Begun in 1896, the games have grown from 14 participating countries to 204 in 2012 (with with a record 207 participating in 2016). Each map illustrates the participation by country and by gender along with the medal counts won by each country. Picture in picture overlays display the medal design and host city.
The maps clearly show a number of significant geopolitical events that affected participation in the games. In addition to the cancellations for World War I (1916) and World War II (1940 and 1944), these events include the African boycott of the 1976 games because of the International Olympic Committee's refusal to ban countries who had gone to apartheid-era South Africa to play in sporting events, the 1980 boycott of the Moscow Olympics by 65 countries because of the Soviet Union's involvement in a war with Afghanistan, and the 1984 boycott of the Los Angeles Olympics by the Soviet Union and fourteen other Eastern bloc countries because of security concerns. The maps also illustrate the increase of female participation in the Olympic games, growing from 22 in 1900 (2.2% of all athletes) to 4476 in 2012 (44.4% of participants).
This dataset was created by staff in the Cyberinfrastructure for Digital Humanities group (CyberDH) and the Advanced Visualization Lab (AVL) at Indiana University. CyberDH and the AVL are units of the Research Technologies division of University Information Technology Services and Cyberinfrastructure and Service Centers of the Pervasive Technology Institute at Indiana University.
Notable Features
There was no 1916 Olympic games due to WWI nor 1940 or 1944 due to WWII.
Geopolitical events change participation during games: 25 African countries boycotted 1976 Montreal Olympics, 65 countries boycotted 1980 Moscow Olympics, and Soviet Union and 14 Eastern bloc countries boycotted 1984 Los Angeles Olympics.
Female participation in the Olympic games has risen from 22 in 1900 (2.2% of all athletes) to 4476 in 2012 (44.4% of all participants).
Related Datasets