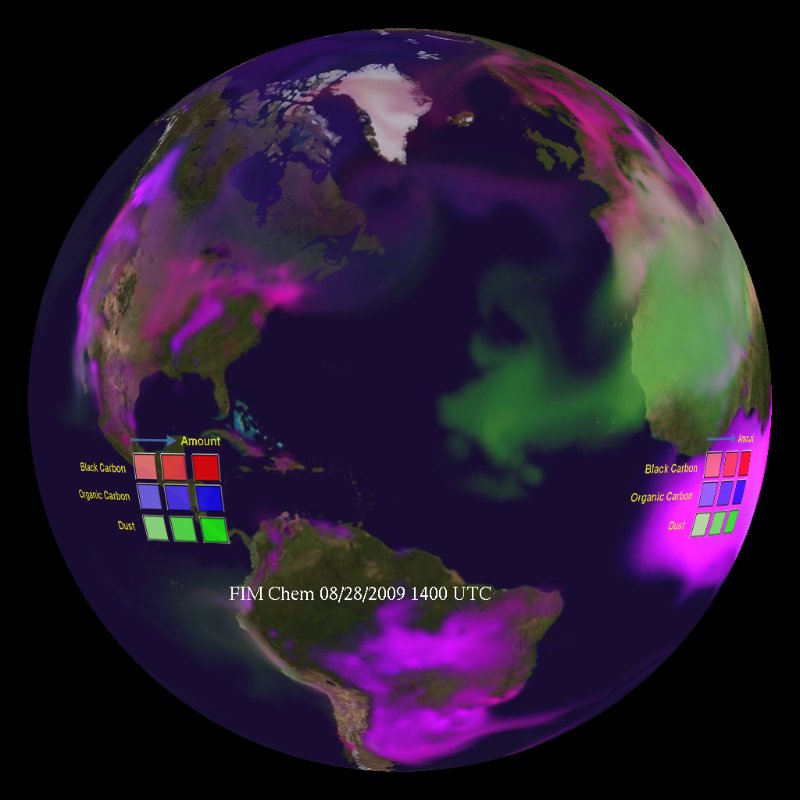 Description
The Flow Following Finite Volume Icosahedral Model (FIM) was developed by NOAA to produce weather forecasts. In fact, weather forecasts from the FIM model are available for SOS here. Building upon the success of the FIM model, the FIM-Chem model was created. The FIM-Chem is the FIM model with chemistry and aerosol modules added. Aerosols are one of the biggest uncertainties in climate models due to their varied affects on radiation and cloud physics. The FIM-Chem allows researchers to forecast and study the behavior of aerosols in the atmosphere, leading to the potential for better Earth system modeling for climate prediction.
In this dataset, the FIM-Chem model is used to trace the presence of three aerosols from August 27, 2009 through September 7, 2009. Green shading is dust, red shading is black carbon aerosols and blue is organic carbon aerosols. When there are multiple aerosols present in one location, the color for the aerosols is combined. The two types of carbon often occur together, though in different proportions. Areas of anthropogenic emissions tend to have a redder color while areas of burning, such as wildfires, tend to have a more purplish-pink color because the ratio of organic carbons to black carbons varies for the two emissions sources. Wildfires have a high ratio of organic carbon to black carbon.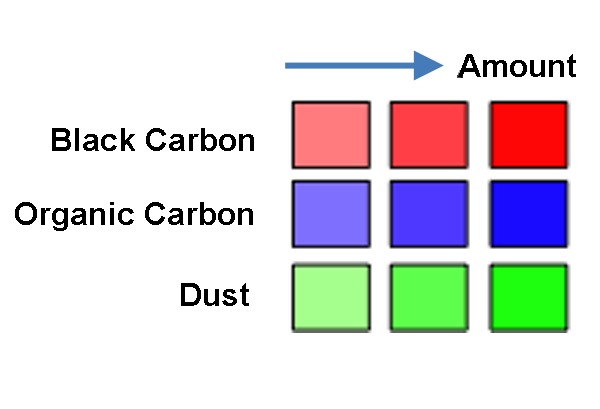 During the time period of this dataset there were wildfires in California, Alaska and British Columbia and biomass burning in Sub-Equatorial Africa and the Amazon region. The white shading is from the presence of all three aerosols. This can be seen in southern Europe where the anthropogenic emissions from Europe are mixing with the dry, dusty air in the Sahara.
Notable Features
Areas of anthropogenic emissions tend to have a redder color while areas of burning, such as wildfires, tend to have a more purplish-pink color
Areas where all three aerosols are present have a white color.
During the time period of this dataset there were wildfires in California, Alaska and British Columbia and biomass burning in Sub-Equatorial Africa and the Amazon region
Related Datasets