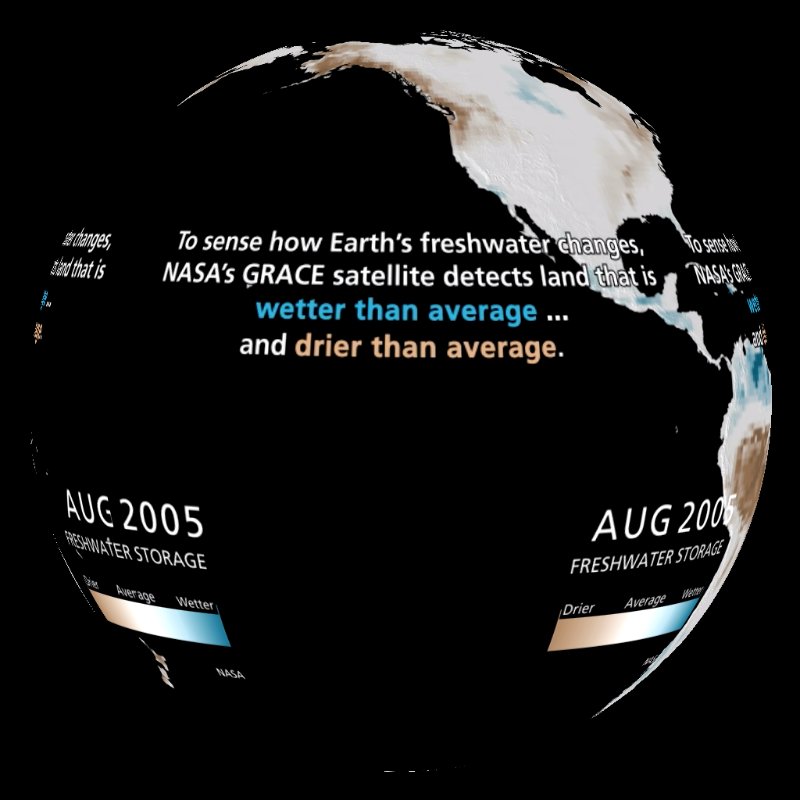 Description
These datasets are companions to a flat-screen data visualization, Water Underground, produced by the American Museum of Natural History's Science Bulletins program.
The FTP link will lead you to two movies for SOS: One movie with captions that mimics AMNH's flat-screen visualization, and a second movie without captions, which is better suited for live interpretation. A backgrounder with more detailed information about the visualization is also included in the FTP link. The flat-screen visualization and associated resources are available here.
Synopsis
Texas suffered its driest year ever in 2011, and southern Alabama and Georgia have continued to suffer serious drought in 2012. Climate change is predicted to make drought more frequent in the southern United States, putting a strain on groundwater reservoirs. This visualization reveals the freshwater stores that NASA's GRACE (Gravity Recovery and Climate Experiment) satellite detects from space and shows how that data can be used to evaluate groundwater gains and losses.
Data Sources
The rivers and lakes dataset used in this visualization is from BGR WHYMAP (World-wide Hydrogeological Mapping and Assessment Programme), as is the aquifer dataset. The aquifers shown are only a fraction of the world's groundwater resources. They represent the approximately 35 percent of the land subsurface (excluding the Antarctic) that hosts relatively homogeneous aquifers, typically in large sedimentary basins. Less homogenous and minor aquifers are not represented.
The global freshwater storage data come from NASA's GRACE (Gravity Recovery and Climate Experiment), a pair of satellites that detect small changes in Earth's gravity field caused by the movement of water masses on and underneath land surface. Freshwater is sensed not only in rivers and lakes but also in groundwater, soil moisture, snow, and ice. GRACE's monthly images are anomaly maps, showing blue where there is more water than average and brown where there is less water than average.
The detailed maps of the southern United States are the output of a computer model that diagnoses drought, developed by scientists at NASA Goddard Space Flight Center in collaboration with the National Drought Mitigation Center. These maps are based on GRACE data but also incorporate measurements of precipitation, temperature, wind speed, humidity, and other observations to create a more detailed prediction of groundwater gains and losses across the United States from week to week.
Length of dataset: 2:09 without captions, 4:02 with captions
Related Datasets