El Nino and La Nina Impacts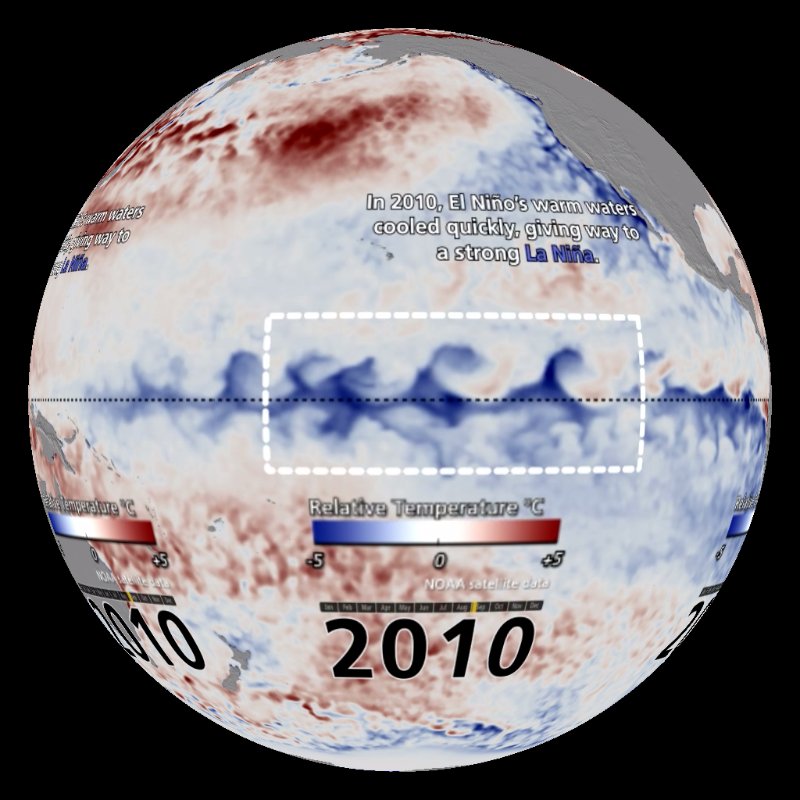 Description
This movie of datasets is a companion to a flat-screen data visualization, El Niño to La Niña, produced by the American Museum of Natural History's Science Bulletins program.
In 2010, the El Niño climate pattern shifted quickly to one of the most powerful La Niñas in fifty years, resulting in dramatic flooding in Australia as well as other extreme weather through the spring of 2011. Using sea-surface temperature data and data of global cloud patterns, these data visualizations reveal 2010's prominent ENSO cycle shift as well as the wild weather that resulted.
The FTP link will lead you to two movies: One movie with captions that mimics AMNH's flat-screen visualization, and a second movie without captions, which is better suited for live interpretation. The following datasets are included in each movie:
Global measurements of sea surface temperature from January 2007 to April 2010, obtained by two satellite sensors (NOAA's AVHRR and NASA's AMSR-E) as well as ocean buoys, which are processed by NOAA's National Climatic Data Center.
Sea-surface temperature anomaly data, which indicate areas that are hotter or colder than normal (a 30-year average).
Infrared satellite observations of global cloud patterns during 2010 and 2011. The global composite is obtained from five geosynchronous satellites (GOES-East, GOES-West, Meteosat-9, Meteosat-7, and MT-SAT) and is processed by NOAA's Climate Prediction Center.
El Niño to La Niña was produced in collaboration with the NOAA National Environmental Satellite, Data, and Information Service (NESDIS), the NOAA Climate Program Office, the NOAA National Climatic Data Center, and the NOAA Climate Prediction Center. The flat-screen visualization and associated educator resources are available at http://www.amnh.org/sciencebulletins/index.php?sid=e.v.sst_11.20110914
Length of dataset: 2:50
Related Datasets