ACARS Track 24hr Time Sequence
Description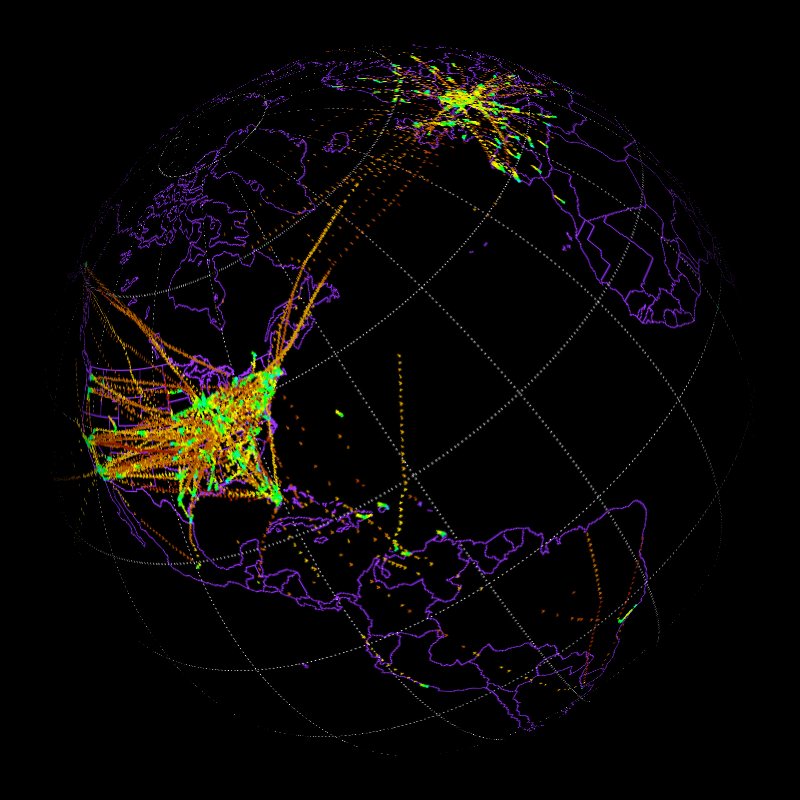 A long-time problem associated with atmospheric research and forecasting is the lack of data points. Weather balloons are launched at various locations across the world twice a day, but even this provides sparse information. The idea of attaching instruments to commercial aircraft in order to expand the number of data points first originated in the Earth Systems Research Laboratory in Boulder, CO. The Global Systems Division at NOAA uses the term ACARS, Aircrafts Communication Addressing and Reporting System, to designate automated weather reports from commercial aircraft.
Today many airlines are involved in this program and the amount of data now available has dramatically increased. This visualization animates the tracks of airplanes that are involved in ACARS during a twenty-four hour period. It also includes Aircraft Meteorological Data Relay, AMDAR, data for many European and Asian air carriers. Essentially, the entire United States is covered, as well as many major cities across the world. ACARS, which is managed by Aeronautical Radio, Inc., is used by the involved airlines to transmit a variety of information such as longitude, latitude, time, temperature, wind direction and wind speed. About 140,000 observations from 4000 aircraft are recorded each day, with 100,000 of those over the United States. Not only does this system provide researchers and forecasters with the data they need, it also helps the airlines to determine the best routes to take based on the highly accurate wind measurements that ACARS provides. This data is a summary of all the flights taken in twenty-four hours.
Notable Features
Each dot represents one data point
Speed with which the United States is covered
Most major cities are easily distinguishable by the number of flights in the area
Related Datasets
Details
Use the Download button below to save a copy of your playlist for use on a Science On a Sphere® system.

You have datasets in your playlist

Are you sure you want to empty your playlist?
Media Preview
Directory
Category
Audio
Dataset Source
Dataset Developer
Visualization Developer
Contact
Keywords
ACARS, aircraft, wind, atmosphere, flight track