Tsunami - 5-year Anniversary
Description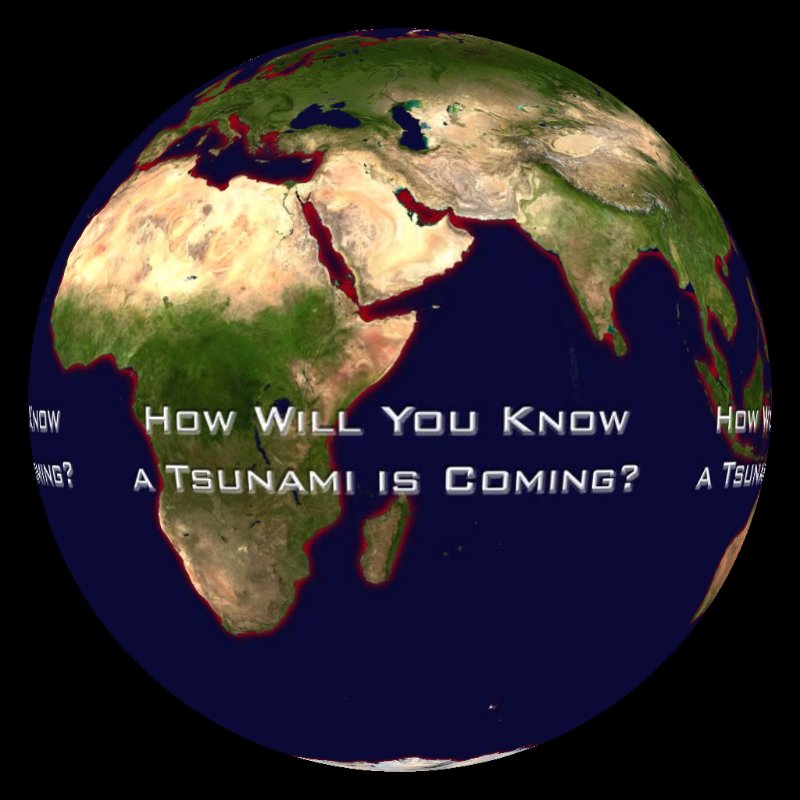 NOAA, in partnership with the National Tsunami Hazard Mitigation Program (NTHMP), has produced "Tsunami", a new Science On a Sphere® (SOS) presentation to commemorate the 5th anniversary of the devastating 2004 Indian Ocean Tsunami. The narrated production uses global datasets, graphics and animations to describe the 2004 event and to take viewers through a future tsunami scenario originating off the US west coast.
NOAA and the NTHMP collaborated to create "Tsunami" with input from a broad team of tsunami and communication experts, including scientists working in research and operations, coastal emergency managers, information technology specialists, and civil defense planners. The NTHMP is a joint program between NOAA and other Federal agencies, U.S. coastal States and U.S. Territories that works to prepare for and educate coastal communities about tsunamis. NOAA's Environmental Visualization Laboratory and Film studio provided visualization, animation and production expertise. For simplicity, the two NOAA Tsunami Warning Centers with their distinct areas of responsibility are represented as one Center located in Alaska.
Length of dataset: 7:55
Details
Use the Download button below to save a copy of your playlist for use on a Science On a Sphere® system.

You have datasets in your playlist

Are you sure you want to empty your playlist?
Media Preview
Directory
Categories
Dataset Source
Dataset Contact
Dataset Developer
Dataset Visualization Developer
Keywords
Natural Disasters, Tsunamis, Indian Ocean Tsunami, Sumatra, Indonesia, Major Events, Extras, Cascadia