Human Influences on Marine Ecosystems
Description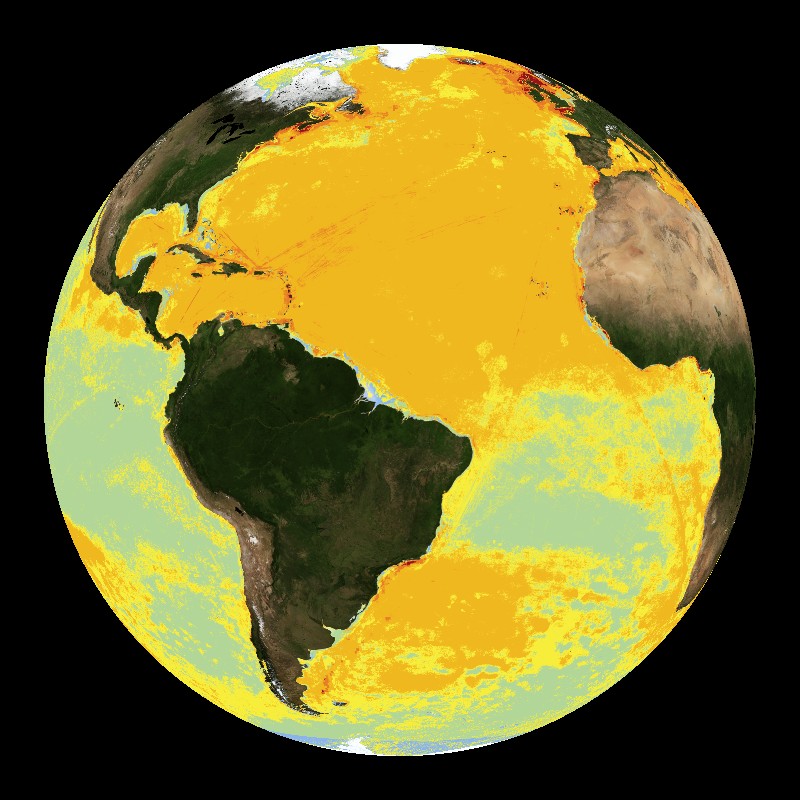 The ocean has an impact on the lives of everyone on Earth, even those who don't live on the coasts. It has been estimated that one in every six jobs in the United States is marine-related and that 50% of all species on Earth are supported by the ocean. Because of this, it is important to protect and preserve the oceans. Humans however have been shown to have a negative impact on the oceans. A report issued in February 2008 found that 40% of the world's oceans are heavily impacted by human activities, such as overfishing and pollution. In all 17 different human activities were examined in the report, including fertilizer run-off, commercial shipping, and indirect activities such as changes in sea surface temperature, UV radiation, and ocean acidification.

This dataset is a map that was put together from the data compiled from the report, A Global Map of Human Impact on Marine Ecosystems, which was published in Science Magazine (see full text). In addition to finding that 40% of the world's oceans are heavily impacted by human activities, researchers also concluded that no area is unaffected by human influence. However, there are large areas that have relatively low human impact, especially near the poles. The areas where humans have had the worst impact include the East Cost of North America, North Sea, South and East China Seas, Caribbean Sea, Mediterranean Sea, Red Sea, Persian Gulf, Bering Sea and the western Pacific Ocean. Areas that are shaded red have a high human impact and blue areas have a very low human impact. The study also examined 20 marine ecosystems to determine the impact of the human influences. The ecosystems that are most threatened are coral reefs, seagrass beds, and mangroves.
NOAA press release
Notable Features
40% of the world's oceans are heavily impacted by human activities
The areas with the least impact are near the poles
Details
Use the Download button below to save a copy of your playlist for use on a Science On a Sphere® system.

You have datasets in your playlist

Are you sure you want to empty your playlist?
Media Preview
Directory
Categories
Dataset Source
Benjamin S. Halpern, Shaun Walbridge, Kimberly A. Selkoe, Carrie V. Kappel, Fiorenza Micheli, Caterina D'Agrosa, John F. Bruno, Kenneth S. Casey, Colin Ebert, Helen E. Fox, Rod Fujita, Dennis Heinemann, Hunter S. Lenihan, Elizabeth M.P. Madin, Matthew T.
Dataset Developer
Dataset Visualization Developer
Keywords
Human Impacts, Oceans, Marine Ecosystems, Pollution